Construction
Speed and security in the processing of information

Construction

Painting and insulation

Rehabilitation

Engineering and architecture

Locksmiths and carpentry

Electricians and plumbers

HVAC systems
The digital economy is much more than a website!

Website or Integration
Integrate with your website or just provide the necessary links

Order Management
Manage orders (contact, quotes...) within the same system

Unification
Gather all customer information in their accounts

Digital Marketing
Give your company a boost thanks to Digital Marketing and all its aspects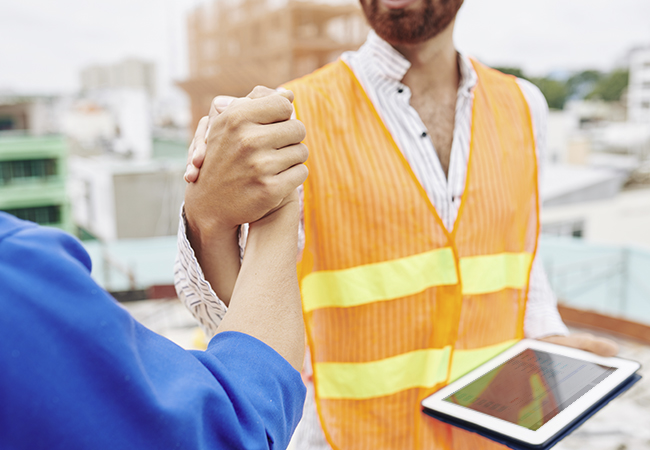 The Software
Get into the Digital Economy
Revolutionize service and ensure greater speed and security in the treatment of all information. With the ebsss platform, requests are duly forwarded to the department or employee in particular.
Any company in the industry can have, from anywhere (whether in the office or in the works) a 360º view on customer information, quotes, notes, warranty periods, previous processes and much more.
Your company's digital counter
Features

Client Management
Keep all your customers' information up to date and gathered on the same site. Create specific accounts (individuals or companies) and streamline all management and communication processes. Contact the customer via email, directly through our platform, keeping the history of the conversation recorded, thus avoiding loss of information.

Dynamic Budgets
Is your way of collecting information very confusing? By email, by phone, personal contact? Streamline this process by creating dynamic budget orders, created by you, with the questions you want. Collect any and all information through them, in order to facilitate the storage of the same.

Sending Documents
Have you ever thought about how easy it is for hackers to access your public emails? With our software, you can safely share any document. Just enter it in the account of the respective customer, and the customer can download it through his private area. You can also insert internal documents (exclusive for administrators). Notify the customer whenever you upload a document to them.

Acceptance of Budgets
Facilitate the process of viewing and accepting quotes from your customers. In addition to being able to elaborate them in our system, it also gives the client the possibility of accepting them in the same place. Just access your private area for this procedure to be possible, after accepting the terms and conditions applied by the company.

Online Agenda
With our calendar, you can enter events, tasks, as well as, procedures to be performed. Create follow-ups from clients (such as calls, meetings or any other task to be done) so that they are displayed in the calendar so that your professional agenda is always with you. You can be notified daily about the procedures to be elaborated on the day that presents itself so as not to forget anything.

Order Management
Do you no longer know how far you are due to the large volume of orders that reach you in every possible way? With our system you can streamline this process and start receiving all orders in one place. You no longer need to get lost in the middle of papers to find certain information requested by a customer. Just search for its name and all of them will appear condensed in your account. Make it easy!

Dynamic Budgets
Request information by creating forms with the exact questions of the budget you want to collect.

Sending Documents
Upload documents to the customer's account, thus allowing the customer to download in complete security.

Acceptance of Budgets
Prepare quotes and give your client the possibility to accept and / or refuse them through the client area.

Client Management
Gather all the necessary information about your customers in one place and just a click away.

Online Agenda
Create alerts for tracking customers and/or events in the calendar, in order to be notified daily about them.

Order Management
Do not go out of your way to fulfill all requests from various sources. Bring them all together in one place and don't forget any details.
Request our contact!
Speak with us and we'll find the best solution for your budget.